The Pen Tool is Mightier than the Sword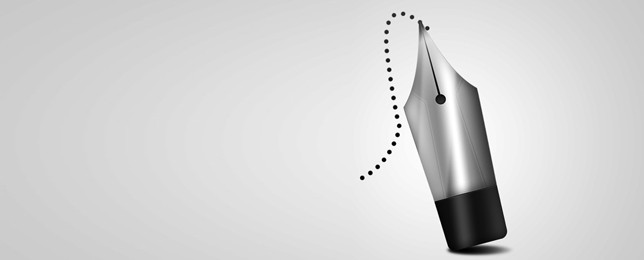 As I was browsing the internet for an idea for my blog I accidently found a typography and it says. " The pen tool is mightier than the sword." My "idea light bulb" suddenly turned on….DING!!!! If the phrase "The pen is mightier than the sword" describes how powerful the work of writers are, then this typography ultimately describes how beautiful the artworks are for digital artist.
The pen is probably the weapon for the writers, poets and journalists. But as we go to the digital era, there is also a pen that exists in the digital world. It is the "pen tool". It is the weapon of choice for digital artists such as Graphic artists and Digital Painters. Just to give you a brief explanation to what is a pen tool, in graphics software, the pen tool is frequently used in the creation of smooth-edged selections, but is not a type of selection tool. The Pen Tool creates vector paths that can be converted into selections that in turn can be used to extract or mask groups of pixels. For most of the graphics designers, they use it for cropping images, vector art, doodles, digital painting and Line art. That's how powerful the pen tool is.
If you are a beginner in using Photoshop or Illustrator and you are using a mouse for your artworks, I suggest that you take time in practicing the capabilities of the pen tool. Don't be afraid to use it. Even though it is very complicated when you use it for the first time but if you practice it, it will show great results and great artworks at the same time. If you "master" the capabilities of this tool while using the mouse, I'm 100% sure that you can make a masterpiece when you use a pen and tablet. PRACTICE, LOVE YOUR ART AND INSPIRE OTHERS. And show the people how powerful the pen tool is. Ciao!!!