CEC CROSSWorld: A Website Launching We Will Never Forget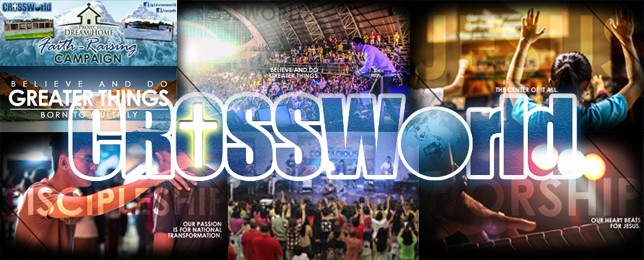 Last November, my wife Paulyn and I decided that we wanted to offer our pastor, Al Termulo of Christ Enthroned Church, a larger capacity hosting account and to clean up his current website. We called him up and a few days later, we met with him at our office. We discussed some of the limitations of their existing site as well as his vision for a new website. During our meeting, it became clear to both Pastor Al and myself that this had the potential to become an extraordinary website. We agreed to pursue the new website and to start gathering ideas, internally and externally and with the help of Marky Alviento, by mid-January we already had some preliminary content ready and we began building out the new site.

Now, it is important to remember that CEC CROSSWorld already had an existing, functional website. So, our work was really cut out for us to improve upon what they already had.
Inspired by the thought that this website will be the catalyst to change lives, we were determined to build not only a beautiful website, but a feature-packed website that reached the people in their homes and offices and connected them directly to the areas and departments of the church they are looking for.
Here are a few of the features of the new site:
One of the most exciting features of the new site is still being developed, but it will be a G12 Network management plugin that will be able to fully automate the Cell Leaders reporting tasks. We are all very excited about this and plan to roll it out later next month. Stay tuned.
Finished Product
Excited to see the new website? Here is a preview and clicking on the image will take you to the LIVE site.
Launch Day At Last
For us here at DCGWS, what has really touched us the most was the actual launching of the site and the outpouring of encouragement from the CROSSWorld family since. The site launch was scheduled for March 23, 2014 at 10 am right after the morning worship service. I invited the entire DCGWS team to attend, as they worked very hard and spent overtime hours finalizing the site. They all deserved to share in witnessing the site launching. What none of us expected was to be formally awarded a recognition for the site. Such a wonderful gesture, and we have been since overwhelmed by the comments and compliments by the other church members.
As if that wasn't enough, Pastor Al invited us all to lunch after the launching and we all had a wonderful meal and a great time.
None of this could have been accomplished without the help of CROSSWorld's Marky Alviento, Jess Fermino, Arnold Valencia and of course Pastor Al Termulo. Thank you all for your patience with us as we were building the site.
Fred Padagas, Sr Web Developer
We were so excited to launch this site, and now, the waiting is over. We finally launched the site full of happiness. And we enjoyed our lunch after.
Jamiel Gerona, Jr Web Developer
I have a great day attending in Crossworld Church. We were blessed by the message and word of God that day. and thanks for appreciating the launch of CW website and thank you for the lunch 🙂
Glaiza Legaspi, Support Staff
Your ceccrossworld.org launch was great and thank you for being part of it..=p
Nephi Bitor, Jr Web Developer
Had a wonderful sunday at CrossWorld Church 🙂 I am so blessed by the fruitful message that God has revealed me on that day by Ptr. Al. From the worship through the end of the service I feel God is speaking to my heart. And after having a great food for the spirit we also had a great lunch 🙂
Thank you Crossworld Church! May the abundant blessings from God be upon you!
Geddy Garcia, Lead Graphics Designer
Thank you for inviting us and for sharing the word of God with us. It's a new experience for me.
Cristal Talisayon, Account Executive
Thank you CEC Crossworld for the lunch treat and for the prayers! We are proud to be part of the church expansion!
Reynelia Go, Supervisor
Thank you CEC Crossworld for giving us a chance to work on this wonderful project. Thank you for letting us be a part of CEC and thank you for all the wisdom that you share with us.
Jerralyn Tanoc, Administrative Assistant
It was an honor and a great experience to be a part of this project. Thank you.
Rowell Bongcawil, Assistant Programmer
Thank you Lord, we have successfully launched the new CEC CROSSWorld website.
I was very excited that morning to come to the church and be there to hear the words of God, and also to launch the new website for the Church. Thank you to Pastor Al for giving us an opportunity and to use my knowledge to work on their new website. Thanks to DCGWS Team for helping me in my challenges. And thanks to God for showing me the guidance, love and care.
Maricris Sebial, Trainee
Thanks for inviting us.. =) And thank you for the good news that you shared with us…
Aldrin Cudia, Trainee
Thank you for choosing DCGWS!
So, from all of us at DCGWS to all of you at CROSSWorld, thank you! We are sincerely humbled by the praises and accolades from you. May God continue to bless us all.