Stay connected to your users through social media marketing and improve loyalty and trust.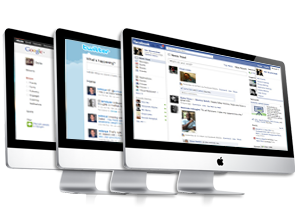 What is Social Media Marketing?
Social media marketing is the process of acquiring website visitors or engagement through social media sites. There are many different social media sites, but our social media services are limited to:
Facebook
Twitter
Google+
LinkedIn
YouTube
Pinterest
Why is Social Media Marketing important?
With almost 200 million people using Facebook each day, it is clear that social media sites are where people interact, share content and connect with each other. It only makes sense that this would be the perfect venue for you to market your product and services.
According to a September 2012 survey by Manta, the largest online community dedicated entirely to small business, nearly 50% of small business owners polled disclosed the most beneficial result of online networking is acquiring and reaching potential clients. Furthermore, 78% remark they acquired around 25% of their new clients through social media networks last year.
"Small businesses understand they need to go where their audience is. Participating, networking and being found online is extremely important today in growing their business, so it's not surprising that they are embracing the channel", said Pamela Springer, CEO of Manta.
If you are interested in learning more about our social media marketing services, you may contact us through our contact form or you may also request a quote. If you would like to speak to a human being like yourself, you may call us at +1 (712) 797-7017 or Skype us at dcgws_internet_solutions. One of our social media experts are standing by to answer all of your questions.
Blog posts about Social Media Marketing
Facebook is a social networking service that is used to communicate with other people, like our friends, family, and loved ones. Facebook can also be used to promote your own business. How? Here are some ways on how you can promote your business with the use of a Facebook… Continue reading
Don't leave it there. Promote it!
Promotion is part of owning an online business; you cannot just leave your site after it is done! You need to promote it…well. Search Engine Optimization (SEO) is the most effective way in promoting your… Continue reading
What can Twitter do for your Business?
Twitter is a social networking that helps us connects to our fiends, families, loved ones etc. it is also used for sharing information that anyone can read. Twitter can also help business people with their own businesses. Having an account on social networks such as facebook, twitter… Continue reading